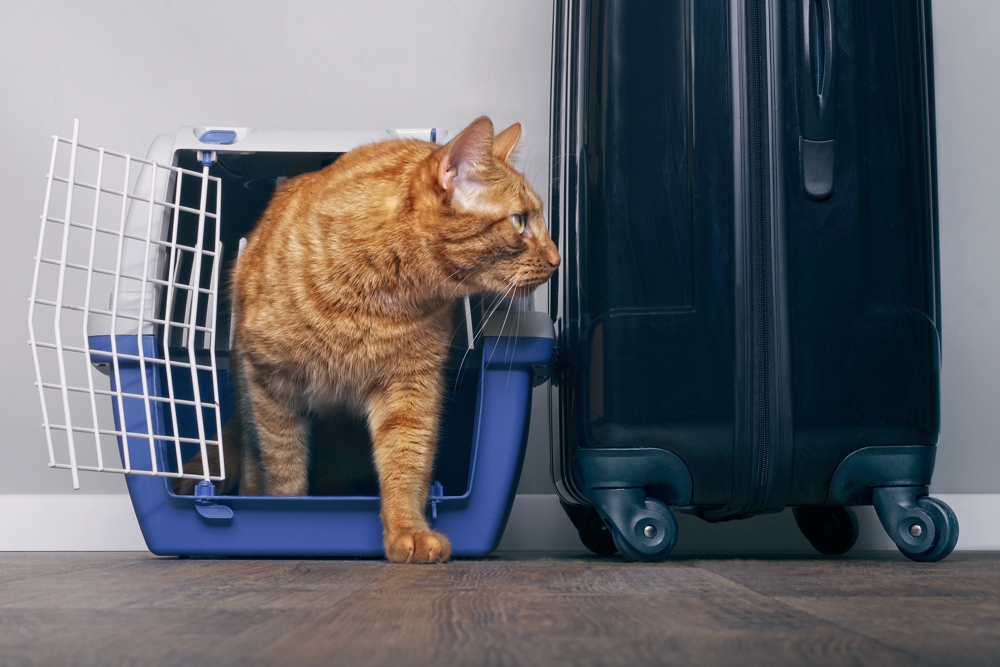 There is a lot to consider when going on holiday with your pet to ensure you both have a safe and enjoyable stay. As lockdown restrictions ease across the UK and staycations become increasingly popular, we anticipate more pet owners will choose to go away with their pets. Since Brexit and the Covid-19 pandemic, there are also new guidelines to remember and things to factor into your travel plans when taking your pet overseas.
Whether you have a horse, dog, cat, or ferret, we have compiled some top tips to help you prepare for a trip away at pet friendly accommodation.
Choosing your accommodation

Research if the holiday destination is easy to get to. Consider the journey time and what mode of transport you will use to reach the accommodation. Will it be possible to take your pet on public transport and will they be comfortable? Find out more about navigating public transport with your dog when travelling by ferry, train, coach/bus or taxi on The Kennel Club website
Check that the accommodation welcomes pets and, if so, what animals are allowed. Some holiday destinations will only let certain animals visit and there may be restrictions on how many pets can stay per person or per room. There may also be an additional charge when staying with a pet – you can enquire about this before your stay. Search the accommodation website and reviews online to check their policy before booking your trip and always let the host know that you're bringing a pet before your arrival. If you're going away with your horse, check whether there is livery and/or stables available to rent. If you're taking your dog on holiday, why not look at dog friendly accommodation in the UK
Consider if the holiday location is suitable for your pet. Some destinations, including city breaks, are more crowded and so it's important to consider if your pet will be comfortable in a busy environment
Make sure there are pet friendly restaurants, pubs and cafes in the area surrounding your accommodation so your pet is not left alone in the room for long periods of time. It's a good idea to check pet policies before booking your trip because tourist attractions may not welcome pets and some public spaces only allow animals entry for certain times of the day or months of the year. Take a look at dog friendly places to visit and eat, and the National Trust's suggestions for the best dog friendly walking spots in the UK to get some ideas on where to enjoy a day out with your pet when on holiday. When going away with your horse, check that local trails and beaches allow horse riding
Ensuring your pet is safe to travel

Research nearby veterinary hospitals so you can contact an on-call vet in the event of an emergency

Look into charities and local services near your accommodation that can help find lost pets so you can contact them and spread the message should your pet go missing. Find out more via our lost and found page
Ensure your pet has an up to date microchip by asking your vet or an authorised agent to scan them before travelling. Always check this number matches your documentation to make reunification easier should your pet go missing. It is a legal requirement that your dog is microchipped and recorded in the current keeper's contact details on a government-compliant database. Petlog Premium allows you to update your records as many times as is needed throughout the lifetime of your pet for a one off fee of £19.95
Check any insurance documents to make sure your pet is covered. If you have a dog that is not yet insured, take a look at The Kennel Club Pet Insurance before you travel
Research if your pet requires any vaccinations or medical treatment before you go away
Consider if your pet needs a pet passport to travel to your holiday destination

Find out more about microchipping for pet travel when going abroad and new guidelines surrounding travel between Great Britain, Northern Ireland and the European Union.
Packing for your pet

Read our advice on items to pack for your pet and help keep them safe, healthy, and happy during your time away from home.

Tack (for horses)
Food/treats
Water bowl or drinker bottle
Water (for the journey)
Poo bags
Extra towels and blankets
Bedding
Crate (particularly for ferrets or if your pet feels happier sleeping in these)
Litter tray and equipment needed to clean this out (for cats and ferrets)
Medication that your pet needs
Finally, whether you are staying in accommodation in the UK or travelling abroad, enjoy some much-deserved time away with your pet!